Sport
Sport
October Shipment Sold Out
Purchase Now for November delivery. Limited Quantity

Prices are subject to change depending on delivery date.
Does an aggressive riding style get you going? Then the Sport is for you. Its mountain bike inspired frame is perfect for your literally energized outing. Take those hills like riding a magic carpet. You'll only look back to see how far you've come — farther and faster than you've ever had the chance to max out before. Inspired by a flash of lightning racing through the night sky, the Sport comes in cobalt blue and black.
500W Geared Hub Motor | 30-50 Miles per Charge | Thumb Throttle
500 Watt
Geared Hub Motor
48V, 14Ah
Lithium-Ion Battery
Hydraulic Brakes
With Motor Cut-off
Up to 50 Miles
Range per charge (estimate)
5'4"- 6'3"
Fits a wide range of riders
The Freedom Machine
A powerful motor and a 48V/14Ah battery (672 watt hours) that range up to 50 miles to take on those hills like riding a magic carpet.

Equipped with both pedal-assist and a thumb throttle that activates 500 watts of on demand energy, giving you the perfect riding experience across any terrain. Bright LED head and tail lights keep you riding safe under any conditions. High quality rear rack for slinging up to 55 pounds of cargo for all your needs.
HIGHLIGHTS
A Battery Sets You Free
Beautifully integrated into the design of your Espin, the sleek power of this 48 volt 14 ah battery (672 watt hour) gives you up to an estimated 50 miles per charge.
Sporting Good looks
Your Sport's double diamond frame is accentuated by a curved top tube for a look that is sleek, modern — always ready to hit the road and race forward.
Stopping Power
Powerful 160 mm hydraulic disc brakes bring you to a clean, quick stop — the Espin testament to control and safety.
Lightning That You Pedal
The steepest inclines can't compete with the Flow's 500 watt Bafang Motor, the key to your Espin's powerful, smooth propulsion.
The Ultimate Turn On
Thumb the throttle to activate 500 watts of on demand energy for your Espin's powerful motor — and the perfect riding experience across any terrain.
Sport specification
ELECTRONIC DETAILS
Motor Brand
8Fun
Motor Type
Rear Mounted Geared Hub
Motor Nominal Output
500 watts
Motor Torque
55 Nm
Battery Brand
LG Cells
Battery Voltage
48 volts
Battery Amp Hours
14 ah
Battery Watt Hours
672 wh
Battery Chemistry
Lithium-ion
Charge Time
6 hours
Estimated Min Range
30 miles
Estimated Max Range
50 miles
Display Type
ESPIN Fixed Backlit LCD
Readouts
Speed, Battery, Assist Level (1-5), Odometer
Drive Mode
12 magnet sealed cadence sensing pedal assist.
Top Speed
Class 3
BICYCLE DETAILS
Cranks
Alloy Cranks 170 mm, 45T Chainring with Plastic Bash Guard
Pedals
Wellgo Aluminum Alloy Platform
Gearing Details
Shimano Altus Rapid Fire Shifter (8 Speed) 12-32T
Shifter Details
Shimano Altus Triggers
Brakes
Zoom Dual Piston Hydraulic Disc Brake, Front/Rear w/160mm Rotor
Zoom levers with Integrated Motor Cutoff
Hand Grips
Velo
Saddle
Selle Royal Freeway
Tires
Kenda Komfort 27.5 x 1.95
Handlebar
Zoom Alloy Flat Handlebar 25.4mm
Headlight
LED
Fork
SR Suntour XCT
Seatpost
Zoom 30.4mm
Rack Capacity
55 lbs (25kg)
Weight
55 lbs
Frame size
17"
Frame Type
Double Diamond High Step
Other
Locking Removable Battery Pack & Fenders
Attachment Points
Rear Rack bosses, Fender Bosses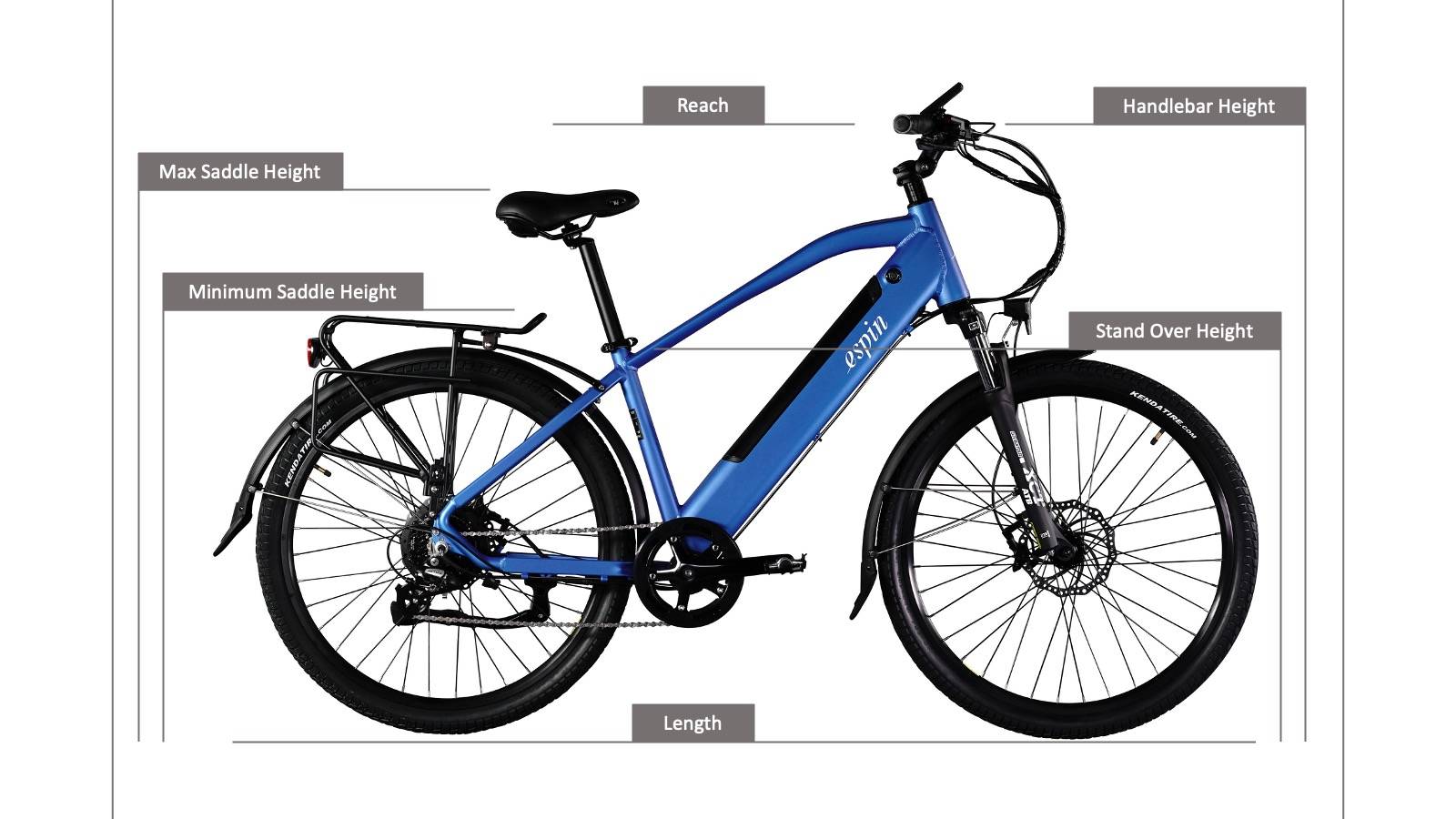 Total Weight Capacity

275 lbs
Great E bike
The Sport is super cool, sleek, and fun.
It is fast, efficient, and a joy to ride!
Not perfect but a great value
A little personal background. I am 68 years old and my other bike is a vintage ten-speed, drop-handle road bike with skinny tires purchased new in 1978. I wanted an eBike to expand my range and allow me to seek out routes that previously were too strenuous. Plus quick runs to the grocery store for milk that just ran out.
My Sport came well-packed, double-boxed with no visible damage, but the package must have gotten squeezed at some point since the cage protecting the derailleur got bent—something I didn't discover until my first ride, when only three of eight gears were useable. I simply unbent the cage to clear the derailleur. One could argue the cage did it's job. All in all, I don't know how they could have packaged the bike any better, short of building a wooden box. They used lots of foam wrap, cardboard, twist ties and ziplocks to prevent parts from rubbing.
One main reason for my choosing the Sport was the pleasing shape with the integrated battery. The welds are not seamless like the joints on a similarly shaped Aventon Level, but the Aventon costs $400 more. Similarly, the spaghetti cluster of wires and cables coming off the Sport's handlebars is more smartly addressed on the Ride1up 500, but I knew from the website photos what I was getting and at $1200 for my Sport I am very pleased. I need to mention that the cobalt blue paint job in person is so much more stunning in person than on a computer screen. Espin should update their website to note that brake discs have been upgraded to 180mm. Some YouTube reviews thought the Kenda Comfort tires weren't heavy duty enough. Compared to my road bike, these tires feel like "fat tires" and are great for the riding I do.
These following comments apply more to persons who actually want to pedal with assist as opposed to letting the super responsive motor do all the work. (The thumb throttle is very seductive.)
I agree with other reviewers that wish there were an additional PAS level lower than the current PAS 1. (But again, I knew that from reading reviews before ordering.) Same for needing higher gears on the rear hub. I never use 1, 2 or 3 on the shifter, even without PAS—Gear 4 seems equivalent to my vintage 10-speed's number 1 gear. At the other end, if you are in PAS 5, the 8 gear isn't high enough to keep up so you "ghost pedal." I realize there may be eBike Classification reasons involved. The eSpin website claims the Sport is a Class 3 bike but my bike came with a Class 2 label and the thumb throttle not yet connected.
So far I have put 55 miles on my Sport—all on city streets or bikeways. My battery meter is still at 2 out of 5 bars. I have done a mix of flat, hills, casual pedaling and "need to get home fast." Almost all with some assist. It helps the battery life that I only weigh 165 dripping wet. I love the thumb throttle for starting from a full stop at a traffic light or stop sign.
A few comments about support-- eSpin should update the assembly instructions. It it is much easier to install the front fender with the light BEFORE the tire goes on. And the bolt attaching the light no longer uses an allen wrench. How about some links to the Zoom brake website on hydraulic brake maintenance . A link to Shimano on derailleur adjustments. SunTour on adjusting the fork. The target market for the Sport is not mountain bikers already familiar with these items. That said I am super happy with my purchase. Before ordering, I did extensive research online comparing features, reviews, looks, support and price on at least a dozen ebikes between $1000 and $1500. My final three were the Ride1Up 500, the Leoncycle Moscow and the eSpin Sport. There might be a better eBike out there for $1200, but I didn't find it. I do sometimes think I should have ordered the eSpin Flow with it's easier-to-access frame, but it doesn't come in the fabulous blue paint.
One of our bikes came together perfectly. The other we had to take to the bike shop to adjust the derailleur. Since then we've gone 40 miles without a hitch. Comfortable, solidly built and one of the best deals out there for the money
On the fence? Get one or two!!
Bought both the Sport And Flow. Super easy assembly. Had both bikes up and running in about an hour. These bikes are awesome! Some of the other bikes we looked at did not come with fenders, headlight or tail light. (Priced separately). These came without needing to purchase extras. We did add a rear view mirror and a little bell. (these are cheap & buy anywhere). We are having so much fun with these bikes. You can still get your exercise but, you can have some assist for going up hills (or not). If, you are feeling lazy, you can use full assist or just the throttle and cruise along. Guaranteed you will not regret this purchase!!! Oh! And customer service was great when we called for information on bikes before we purchased. Thanks Espin!
Amazing Bike
The Espin Sport bike quality is amazing - beautiful bike and a ton of fun to ride!