21 Flow
FREE shipping on ebikes to the lower 48!
The urban commuter's dream. Zip through traffic on a comfortable ride.
You're an urban commuter who wants to zip through traffic on a comfortable ride. You admire Scandinavian inspired design. You appreciate a graceful step-through frame that allows you to easily, safely mount and dismount your ebike anytime you want. You and Flow are going to get on so very fine. Inspired by San Francisco's fogs, the Espin Flow ebike comes in smoke gray and forest green.
500W Geared Hub Motor | 30-50 Miles per Charge | Thumb Throttle
Note: You may receive different branded parts than listed below due to supply shortage.
ELECTRONIC DETAILS
Motor Brand
Espin
Motor Type
Rear Mounted Geared Hub
Motor Nominal Output
500W
Motor Torque
55Nm
Battery Brand
Samsung Cells
Battery Voltage
48V
Battery Amp Hours
14Ah
Battery Watt Hours
672Wh
Battery Chemistry
Lithium-ion
Charge Time
6 hours
Estimated Min Range
30 miles
Estimated Max Range
50 miles
Display Type
ESPIN Color LCD
Readouts
Speed, Battery, Assist Level (1-5), Odometer
Drive Mode
12 magnet sealed cadence sensing pedal assist.
Top Speed
Class 2
 
BICYCLE DETAILS
Cranks
Alloy Cranks 170mm, 46T Chainring with Aluminum Bash Guard
Pedals
Wellgo Aluminum Alloy Platform
Gearing Details
S-Ride 8 Speed 13-32T
Shifter Details
S-Ride Triggers
Brakes
Zoom Dual Piston Hydraulic Disc Brake, Front/Rear w/ 180mm Rotor
Zoom levers with Integrated Motor Cutoff
Hand Grips
Velo
Saddle
Selle Royal Freeway
Tires
CST 27.5x2.10
Handlebar
Zoom Alloy Flat Handlebar 25.4mm
Headlight
LED
Fork
100mm travel hydraulic lockout
Seatpost
Zoom 30.4mm
Rack Capacity
55lbs (25kg) 15" x 5"
Weight
55lbs
Frame size
17"
Frame Type
Double Diamond High Step
Other
Locking Removable Battery Pack & Fenders
Attachment Points
Rear Rack bosses, Fender Bosses
BIKE GEOMETRY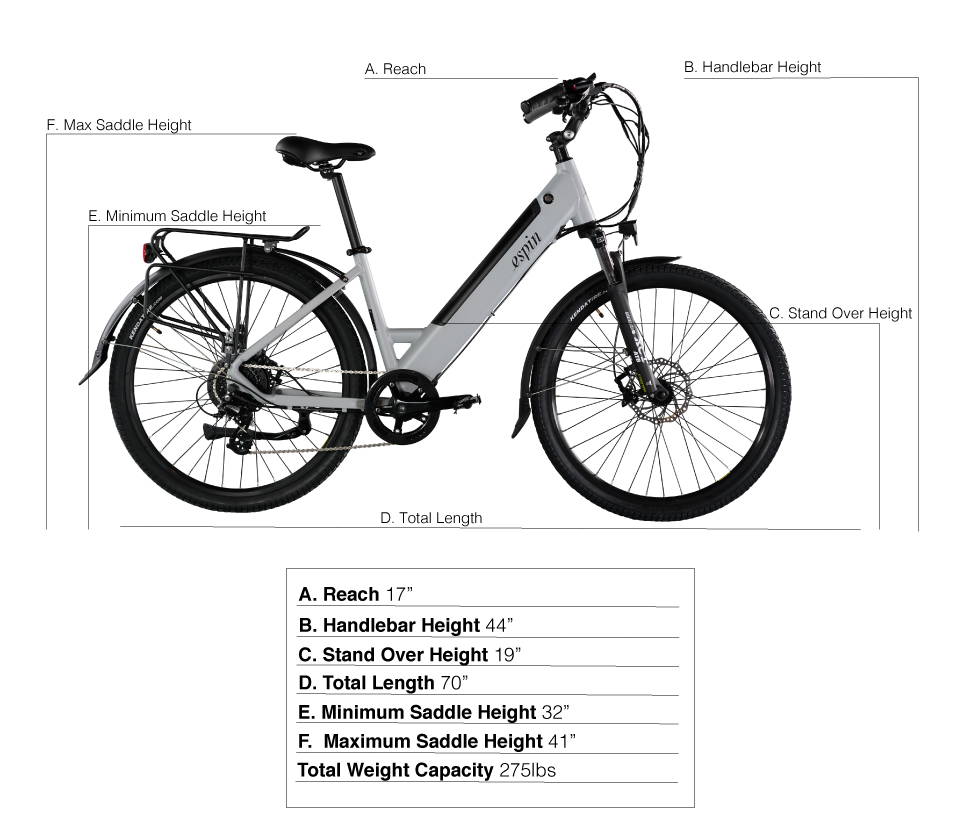 General Questions
Related to Espin
What is the difference between Espin's Sport and Flow eBikes?
The Sport comes in a 17 inch diamond frame and is for riders looking for a more sporty and aggressive riding style.
The Flow is a European inspired design built for the urban commuter who wants to zip through traffic and ride comfortably. It has an elegant 17" step-through frame that allows you to mount and dismount easily and safely anytime you want.
Can I ride my Espin pedal-assist eBike in the rain?
Yes, we have waterproofed all the wiring and electrical connections so it can withstand rain. Of course, one should not let the bike just completely soak in the rain if possible, but there is no need to worry about riding in rain.
How much does an Espin pedal-assist eBike weigh?
Each model has a different weight. Please review the product page for the specific model to find the weight of the bike.
What type of brakes does the Espin pedal-assist eBike have?
The Espin pedal-assist eBike has 160 mm dual piston hydraulic disc brakes for both the front and rear wheels.
What type of saddle does an Espin pedal-assist eBike have?
Espin pedal-assist eBikes come equipped with the Selle Royal Freeway saddle with a soft-touch cover and shape memory. Our saddles use slow fit foam which is a visco-elastic material that molds to the rider's body and guarantees a uniform weight distribution. Our saddles also reduce shock and vibrations to give you the most comfortable ride.
What are Espin frames made of?
Espin pedal-assist eBikes are made from 6061 aerospace grade aluminum alloy.
What is the maximum recommended weight limit?
The recommended maximum weight limit is ~275 to 300 pounds depending on the model.
Can I assemble it myself?
Yes! The assembly takes less than 15 minutes and we even provide all the tools you need. If you run into any issues, you can follow along in the assembly video:
Why am I receiving different parts than expected?
Due to the shortage of supplies, certain parts may be different from what is listed on the spec list. In order to ensure that we get you riding on your new Espin bike as soon as possible, we've had to replace certain parts with other brands of a similar level. Potential parts that may be affected are the tires and derailleur.
---
How do I maintain the life of the battery?
Please make sure to charge the battery once every 3 months if it is not being used for an extended period of time. This will help maintain the life of the battery. Failure to do so will result in a loss of range per charge.
What is the range on a single charge?
Each Espin Bikes has a different range. Please refer to the specific model's product page to find the range of the battery.
How long does the battery take to fully charge?
A full charge takes approximately 6 hours. The battery is detachable from the frame so you can easily charge the battery when you are at home, work or even while you are sitting at a coffee shop.
How long until a battery needs to be replaced?
The battery is expected to last about 2-4 years or around 500 charge cycles.
All Espin Bikes have different top speeds. Please refer to the product page of the specific model to find the top speed.
What type of tires does Espin use?
Espin pedal-assist eBikes use Kenda Kwest 26 x 1.95 tires with reflective strips for safer night riding. These are solid tires that are ideal for city riding. Soft enough to give you a comfortable ride yet hard and thick enough to handle sharp turns and not get interrupted by small sharp objects.
What maintenance is required?
Maintenance is exactly the same as a regular bike other than the four main electrical components: battery, motor, controller, display. You should do basic tune-ups on your bike after the first 100 miles. Regular tire pressure checking is important as you want to keep your tires inflated for maximum riding comfort. Other than that, the electrical components should require minimal maintenance and if any issues arise, please follow the instructions to diagnose the issue, which will be included in the user manual. If you are still unable to fix the problem, please submit a warranty claim and we will process your claim as soon as we can as we understand you want to get back on the road as quickly as possible.
Can an Espin be serviced at any bicycle shop?
Yes, any bicycle shop can make repairs on your bike. If you would like recommendations for bicycle shops in your area, our customer support team would be glad to assist you.
---
What is an electric bike (eBike) and what makes it different from a regular bike?
An electric bike is just like a regular bike, except for 4 main electrical components: the battery, motor, controller and display. Other than that, it will function and ride just like a normal bicycle. The Espin eBike is a pedal assist bike, which uses the motor to increase the power created when you pedal. So it rides and turns just like a regular bike, it just makes riding easier, especially uphill.
Do I need a license to ride an eBike?
No, federal law treats electric bicycles just like normal bicycles as long as they are limited to 20 mph while being powered by the motor and has less than 750 watts of power. Each state has different speed restrictions so you should check your DMV for additional information. California has categorized electric bikes into 3 tiers:
Tier 1 – pedal assist bikes with a max speed of 20 mph and less than 750 watts of power
Tier 2 – Throttle on demand bikes that have a max speed of 20 mph and less than 750 watts of power
Tier 3– "speed pedelec" bikes with a max speed of 28 mph and less than 750 watts of power
Espin pedal-assist eBikes are Tier 3 electric bikes, except for the Flow which comes set as Tier 2.
---
If there is anything that wasn't answered, please email us at hello@espinbikes.com and we will get back to you shortly!
Free Shipping
DIY Assembly
Delivery within 5-7 business days (when in stock)
---
How is my bike shipped to me?
Your Espin Bike will be shipped directly to the address listed at no additional cost. Though our bikes come 90% assembled out of the box, we strongly encourage you to work with a professional mechanic to assemble it if you are not comfortable doing it yourself.
If your question about online orders has not been answered above, please call (888) 296-4550 or email hello@espinbikes.com.
Espin Bikes allows you to return your purchased item for a period of 14 days from the date of receipt.
In order to process a return, you must email us at:
To be eligible for a return, the bike must be packaged in the original packaging and free from damage. Upon receipt, Espin Bikes will assess the bike for damages.
Cost of damages will be deducted from the refund.
- Customer pays $175 shipping fee (withheld from refund)
- After 14 days, subject to up to a 20% restocking fee (withheld from refund).
- No returns are accepted after 30 days except in extreme cases of malfunction
- Accessories are not eligible for returns except in cases of malfunction
Espin Bikes will not issue a credit until it is in possession of the returned item. Refunds will be issued within 2 weeks of receipt of the item returned.
Order Cancellation: Any order can be cancelled for a refund as long as the bike has not been shipped. Refunds before shipping will be subject to a 3% processing fee. This is a fee we cannot get back.
Return Address
Espin Returns
7049 Redwood Blvd. #108
Novato, CA 94945
More Questions?
(510) 982-0850
Every Espin pedal-assist eBike comes with a 12-month warranty for all components and a 3-year warranty for the frame.
The warranty coverage only applies to the original registered owner of the Espin pedal-assist eBike and is not transferable. Warranty does not cover normal wear and tear, failures due to abuse, neglect, improper repairs, improper maintenance, modification or accidents.
Register your Espin to initiate the warranty period.
Espin pedal-assist eBikes are a great solution for your company's transportation needs.
With Espin pedal-assist eBikes you encourage a healthy and sustainable way of getting around that is fun, good for the Earth, and has health benefits.
Explore the world in full color
---
Crystal clear color display shows you all your metrics (speed, battery, pedal assist level)
Easily customize your ride with all the essential information right at your fingertips
Thumb the throttle and activate power on demand

Rides like a mid-drive without breaking the bank
---
Espin's controller and motor has undergone rigorous testing and QA and are fine-tuned to perfection
Our algorithm for gradual power output provides the smoothest ride on the market
Ride with peace of mind
---
Sturdier than ever with a new reinforced frame
Wider tire upgrades provide even more grip and stability to handle any terrain
Powerful 180 mm hydraulic disc brakes bring you to a clean, quick stop — the Espin testament to control and safety.
Espin Flow Bike
I LOVE my Flow! It was easy to learn how to operate and easy to ride. The gears work smoothly and the throttle is just the best! I live in San Diego along the coast where nothing is flat so the pedal assist and throttle makes it easy to ride bikes now. I'm over 60 and if I can ride the flow, anyone can! Great job Espin!
ESpin Flow
I love my Espin bike! It's very comfortable and easy to ride. Has great power and the battery comes out really easy to charge.
Having fun on Sport and Flow
We ordered the Sport (him) and Flow (her). They arrived a few weeks ago and they are both wonderful. These are our first electric bikes and their motors operate very smoothly, and with plenty of power. The bikes are comfortable and very sleek looking as well. We are very happy with them. Putting the bikes together was easy as there is little to actually assemble. The Sport arrived with one small part that was broken but Espin service was great and they replaced it right away. The only item I would mention for would-be buyers is that the rear wheels on both bikes had a few loose spokes. (All the spokes on both front wheels were fine.) None of my spoke wrenches fit and I had a little effort to find the correct size at a bike shop. Both shops said the size was not standard. But I was able to get one and adjusted the loose spokes. So this is something to definitely check when your bike arrives.
Lovin it!
We are 100% completely satisfied with our new Espin Flow's as well as the customer service we received.
Flow Step Through
I am 5'4" female, just turned 60 and wanted the power option on hills. This bike is perfect. The frame can easily fit from 5' to 5'8" person.